National Pawnbrokers Day
|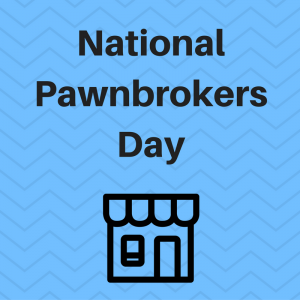 Traditionally, every December 6th is recognized as National Pawnbrokers Day! So we at PropertyRoom.com would like to take this opportunity to thank pawnbrokers and recognize the work that they do. Just for today, we've taken the time to compile a brief history walk-through of pawnbroking, along with a list of fun pawnbroking-related facts collected from various sources.
Brief History of Pawnbroking
The earliest record instance of pawnbroking was in 5th century China, where pawn shops were established, owned, and operated by Buddhist monasteries.
Pawnbroking was prevalent in Medieval Italy – followed shortly thereafter by Germany, the Netherlands, Belgium, and Spain.
The tradition symbol for pawn shops – three balls suspended by a bar – is attributed back to the Medici Family of Florence, Italy. It has since been used all over the world.
In 1800s America, pawnshop loans were so heavily used, there was at least 1 item pawned for every man, woman, and child living in NYC.
Pawnbrokers Fun Facts
A majority of items pawned tend to be jewelry – gold, silver, and precious stones.
After the Wes Welker "Butterfingers" incident in the Giants v. Patriots Super Bowl XLVI, online pawn shop Pawngo.com left 900lbs of Butterfinger candy bars in Boston's Copley Square – completely with a "Thank You Wes Welker" card. It did not go over well with Boston residents, and the CEO was forced to issue an apology, in addition to paying a fine for commercial dumping violations.
The average pawn shop loan is $150.
Are any of our customers fond of doing business with their local pawnbrokers, or even run a pawn business of their own? Tell us about your experience and anything cool you've learned about the practice right down in the comments! And, as always, don't forget to check out this week's popular picks at PropertyRoom.com. Happy bidding, and happy National Pawnbrokers Day!