DIY Interior Decorating
|
Are you decorating on a budget or have limited time on your hands? It doesn't have to take months—and a large budget—to do a make over to part of your home! Brighten up your home inexpensively with these easy DIY interior decorating ideas for refinishing old items that may have been destined for the trash. These simple craft projects require only a few inexpensive supplies. Checkout our cheap and clever home décor hacks to add more life and color to your humble abode.

Pick a certain wall in your home and turn it from simple and lifeless to a main focal point that would elevate your space.
 #1 String Art
Create art with the use of some nails, old string and a pinch of creativity. Hammer up nails into your desired design (make sure to leave almost half of it) and string away! You can set it up directly on your walls or pick-up a wooden canvas for you to work with.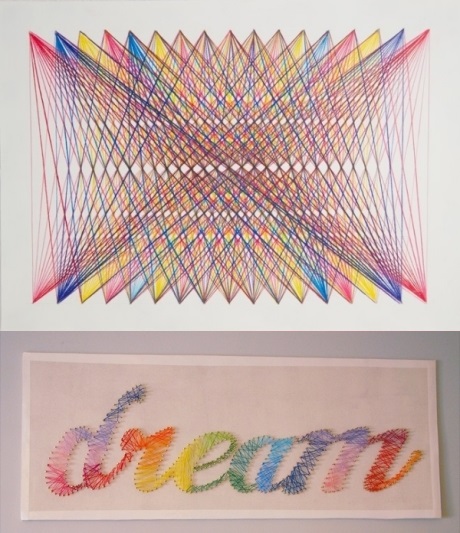 #2 Invisible Book Shelves
Have loads of reading materials and want a modern way of shelving them up? Well, this hack does not veer much away from the traditional bookkeeping – it actually uses a bookend, just used in a different way. Sometimes different perspective is all you need.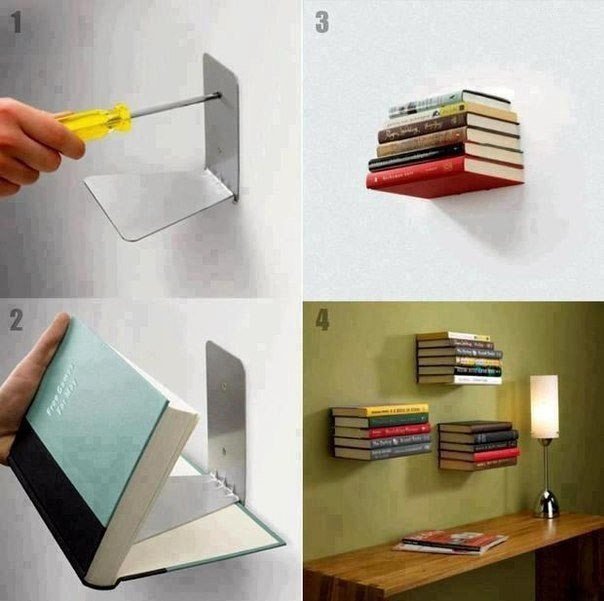 #3 Use Art Supplies for their Purpose – Creating Art
Art supplies are obviously for creating art; Colored pencils are used to paint or draw on a canvas or on a piece of paper. But did you know, it is art in itself alone. With this simple hack, your wall becomes your canvas!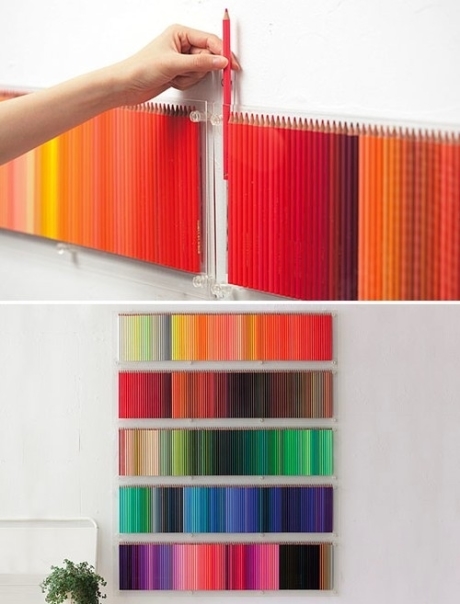 #4 Build a Gallery Wall
Turn an unused wall in your house into a masterpiece – or more of a family memoir – with different frames and your favorite photographs. The frames don't need to match, it will all depend on your creativity and the look that you are going for. It is very simple to do, but the effect is truly heartfelt.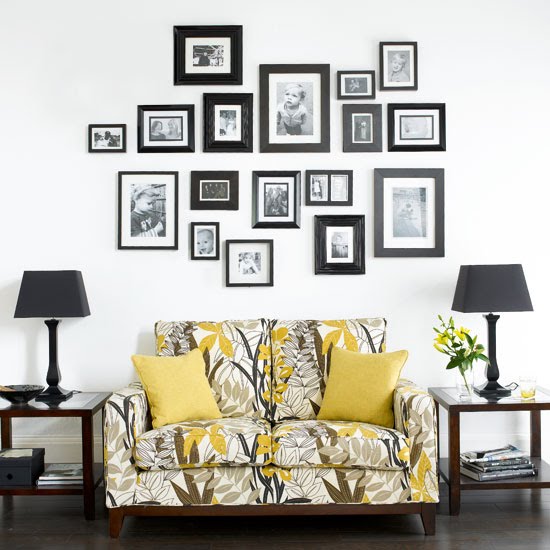 Can't find picture frames at home? Why not use washi tapes?
Washi tapes are very similar to masking tapes, only they come in a variety of colors and designs and can be used to decorate anything. From your keyboards to electronic cords and even your walls.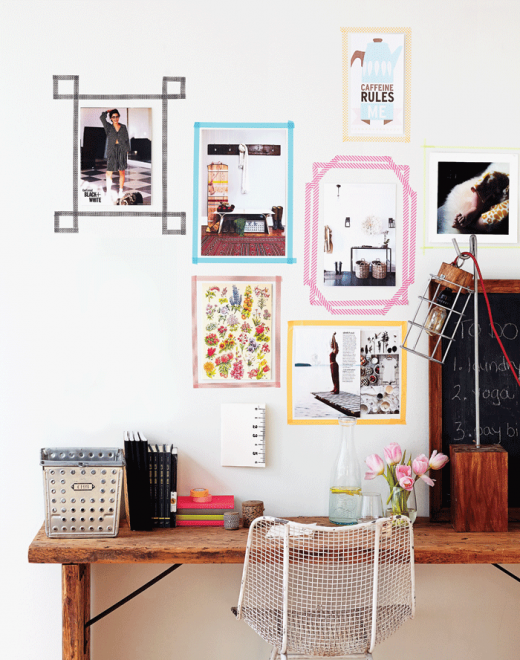 #5 Make a Wall Art
Whether you're a professional photographer or you just have that favorite photo you snapped on your smartphone? You can turn it to a wall art for less than $10 and voila, you now have an original wall décor.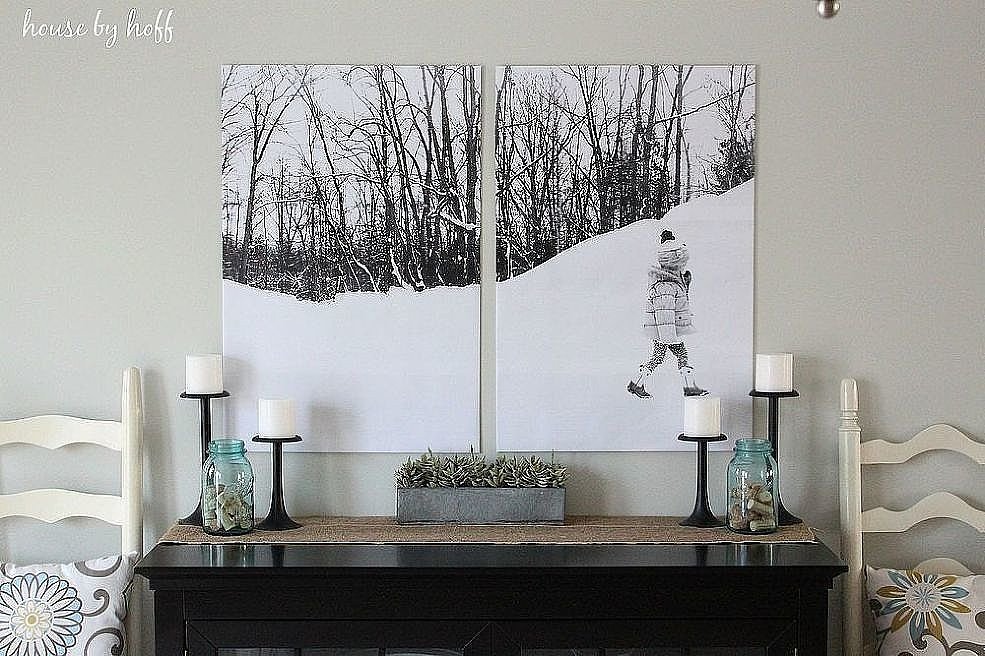 Your everyday household products can be turned into something beautiful in as easy as 1, 2, 3!
#1 Draw on the Furniture
Turn a boring piece of furniture to some work of art with the help of a Sharpie and a nonslip metal ruler – you can add custom graphics to throw pillows (take out the inserts first!) or even the arms of a sofa.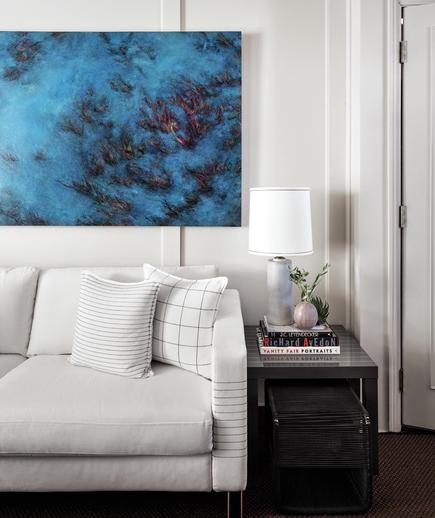 #2 More Pillows, More Fun
Are you the type of person who enjoys oodles of pillows in bed? Or you have a small living space that could use something to soften the mood up without taking too much space? Well, this hack is for both pillow-lovers and space-savers. No longer shall you worry about all the pillows that are scattered – since they are now altogether.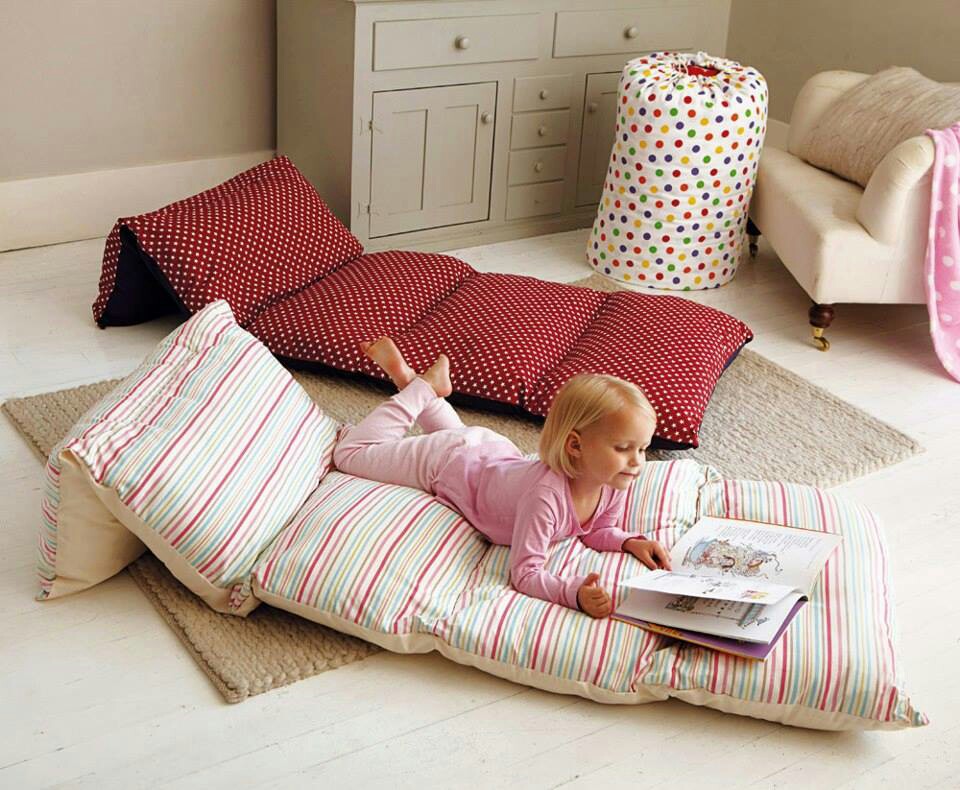 #3 Color Pop! 
For a little surprise, add a pop of color to seemingly unusual places in the home. Paint the sides of your doors or the insides of your window to make them more interesting.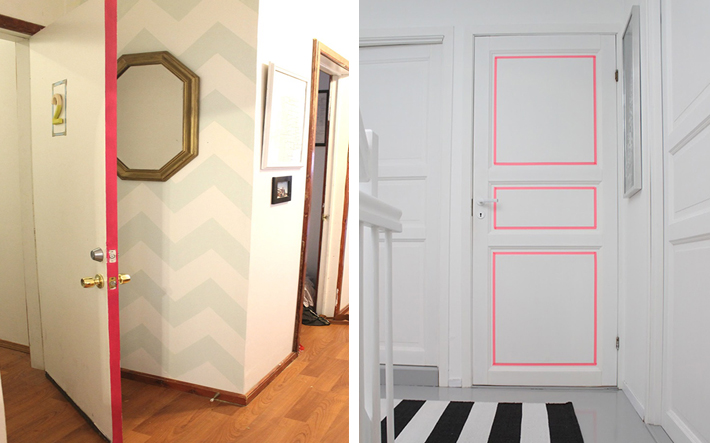 #4 Poke holes
Turn a simple lamp into something notable and more so a conversation starter for when you have guests. Poke some holes in it until it becomes your own masterpiece!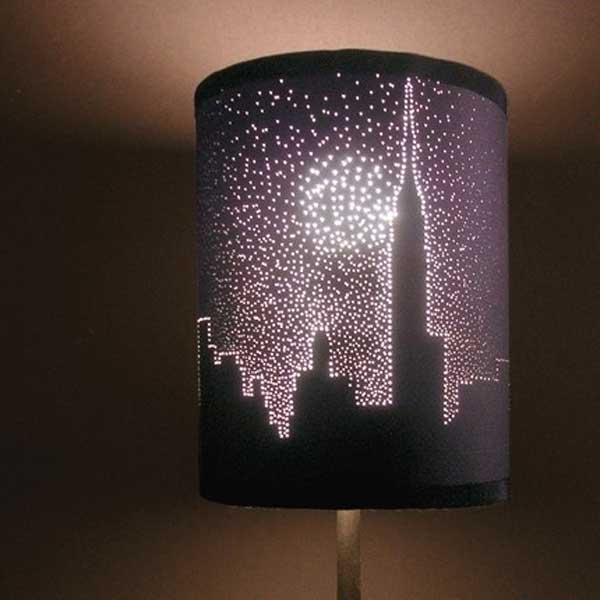 #5 Unconventional Fireplace
Making fire and cleaning out the fireplace is too much of a task? Why not light an array of candles? It can give you the same effect with lesser effort.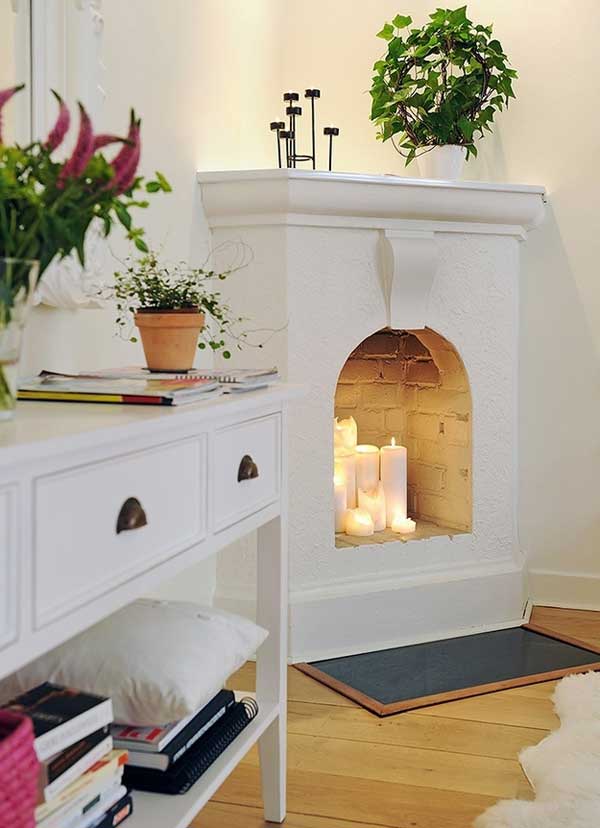 #6 Bleach, anyone?
We all grew up being reminded that bleach is an enemy of colored fabrics…well, not in this case. Make over a plain cotton upholstery fabric by a household disinfectant and water – just dab on the mixture to your old furniture. When satisfied with the pattern created, just let it dry and enjoy your masterpiece.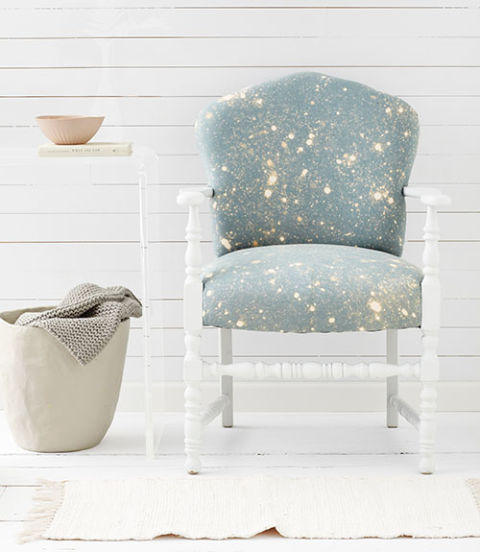 #7 Remote Possibilities
Always having a game of hide and seek with that oh-so-playful TV remote control? Keep the clicker in easy reach with this simple hack. Re-purpose pockets from old pair of jeans and put them on your pillows, whether you sew them on or use fusible webbings on it and iron them on.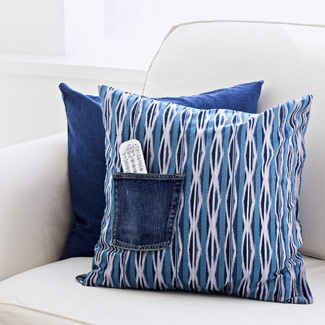 #8 Paperweight
Create a lovely paperweight, or a photo display, or a notes hanger – or whichever you may use it for, with a piece of stone from your backyard and a floral craft wire. Bring in the outside and create an earthier feel in your home office or even in your living room.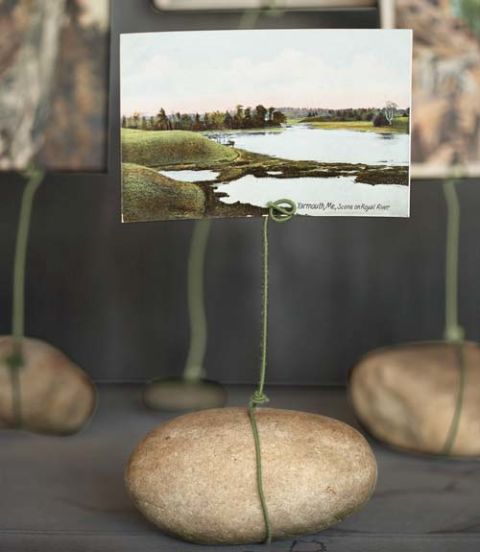 #9 Inspired by the Coast
Bring the coast into your bathroom by taking your rug to the next step. Collect, or purchase, pebbles of your choice and glue them on your old rug.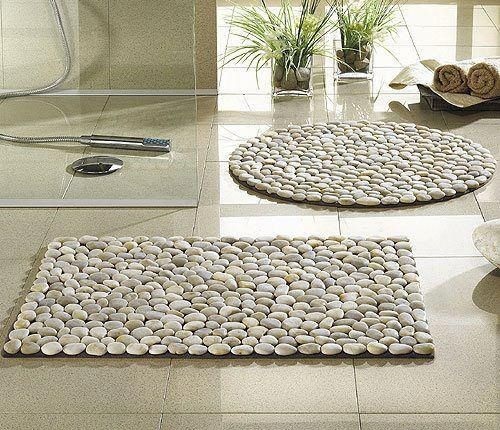 A mainstay in estate sales, old dishes, cups and saucers can still be useful. Re-purpose and upcycle these vintage finds and give their existence new meaning.
#1 No More Bad Odors
A simple hack to keep stinky odors away – in a natural way. Imagine, you just finished cooking a sumptuous seafood dinner at home, yum yum yum; but oh, every space on your house now smells like it just got out of the ocean. What to do? Spray up some air freshener? Don't…it will only worsen the smell since it will mix up all the different odors. Here's an easy one, place coffee beans on a ramekin, put a candle on top and voila. Your home will now smell better than your favorite coffee shop.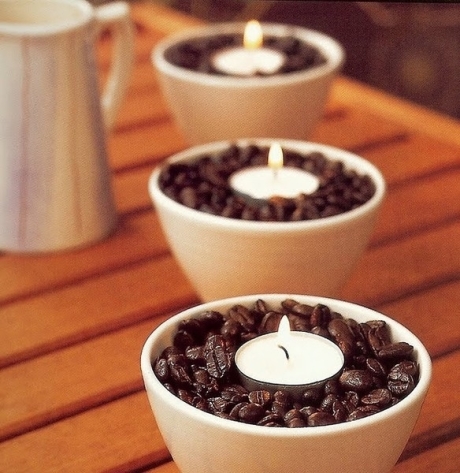 #2 Vintage Tiered Trays
Achieve a Victorian centerpiece with chipped plates and mismatched cups. Depending on your desired height, you may use 3 plates x 2 cups or more. Just remember to glue them up securely to avoid your goods from falling!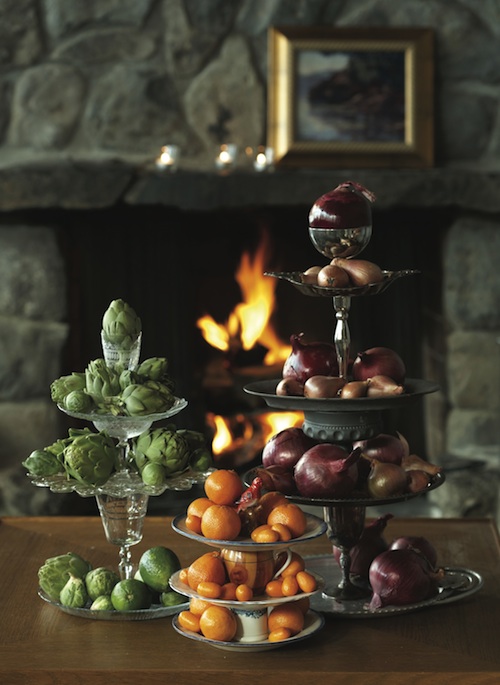 #3 Coffee, Tea or Small Plants?
Old saucers and cups have their own characteristics and appeal, and they can be turned into anything…even a pot for plants. With some soil, rocks and a beautiful small plant, turn your old mismatched china wares into pretty planters.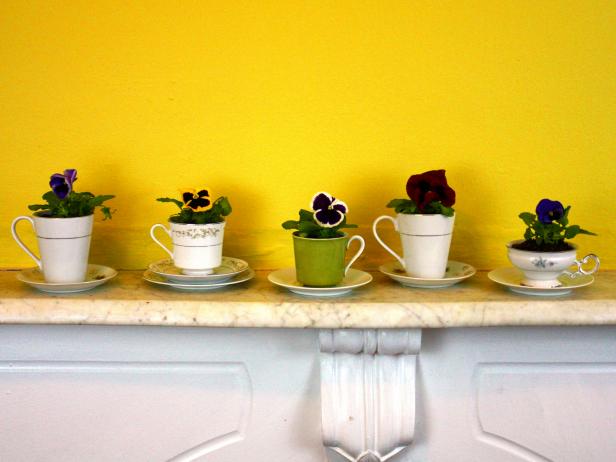 Who doesn't love wine? It has been interlaced with different cultures for centuries now and even their bottles are much loved by all. Classy and chic, that's what they are.
#1 Going for a rustic feel?
No need to splurge on expensive vintage candelabras or candlesticks to achieve the rustic feel – just stick some candles on old wine bottles and you're ready to go. Choose a variety of wine bottles, you can color them up or just let their original vintage beauty shine.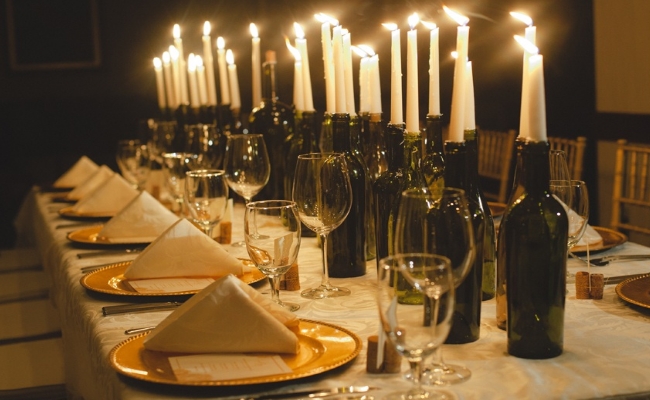 #2 Wine Bottles Still Not Empty? No Problem
You go and find wine bottles for your "candelabra" hack, only to find out that all your bottles are still not empty. You can still refurbish them to be used as a centerpiece – killing two birds with one stone, you now have a centerpiece and drinks for guests! Just glue up some loose gemstones or rhinestones on their corks and you're all set.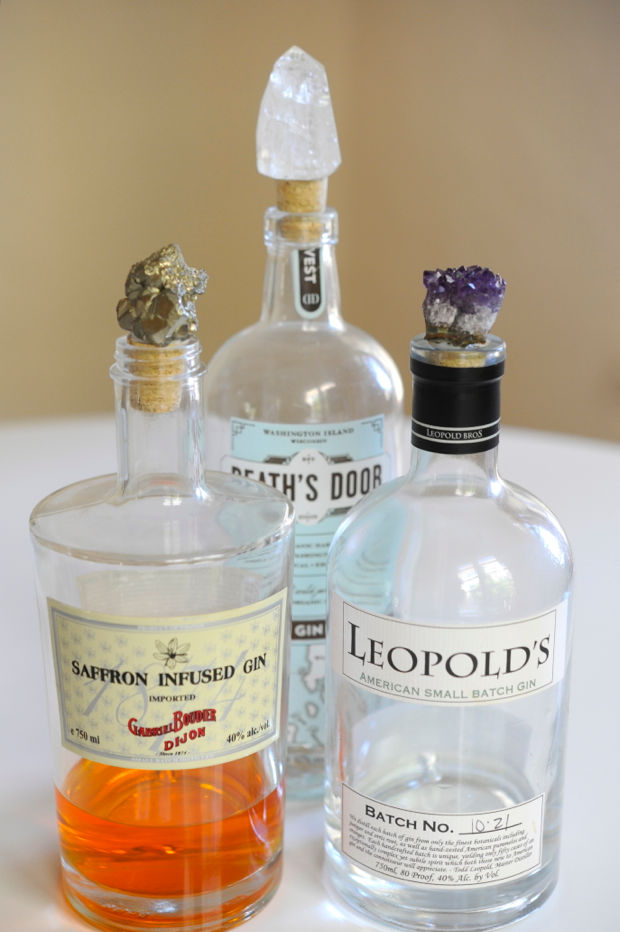 #3 Memory in a Bottle
Ever heard of the message-in-a-bottle? Well, it's an inspiration for this hack. Bottles are not only good as centerpieces or candle holders, they can also be a very beautiful photo frame. This hack is perfect for a more spacious home that needs to be more inviting because of its height and depth.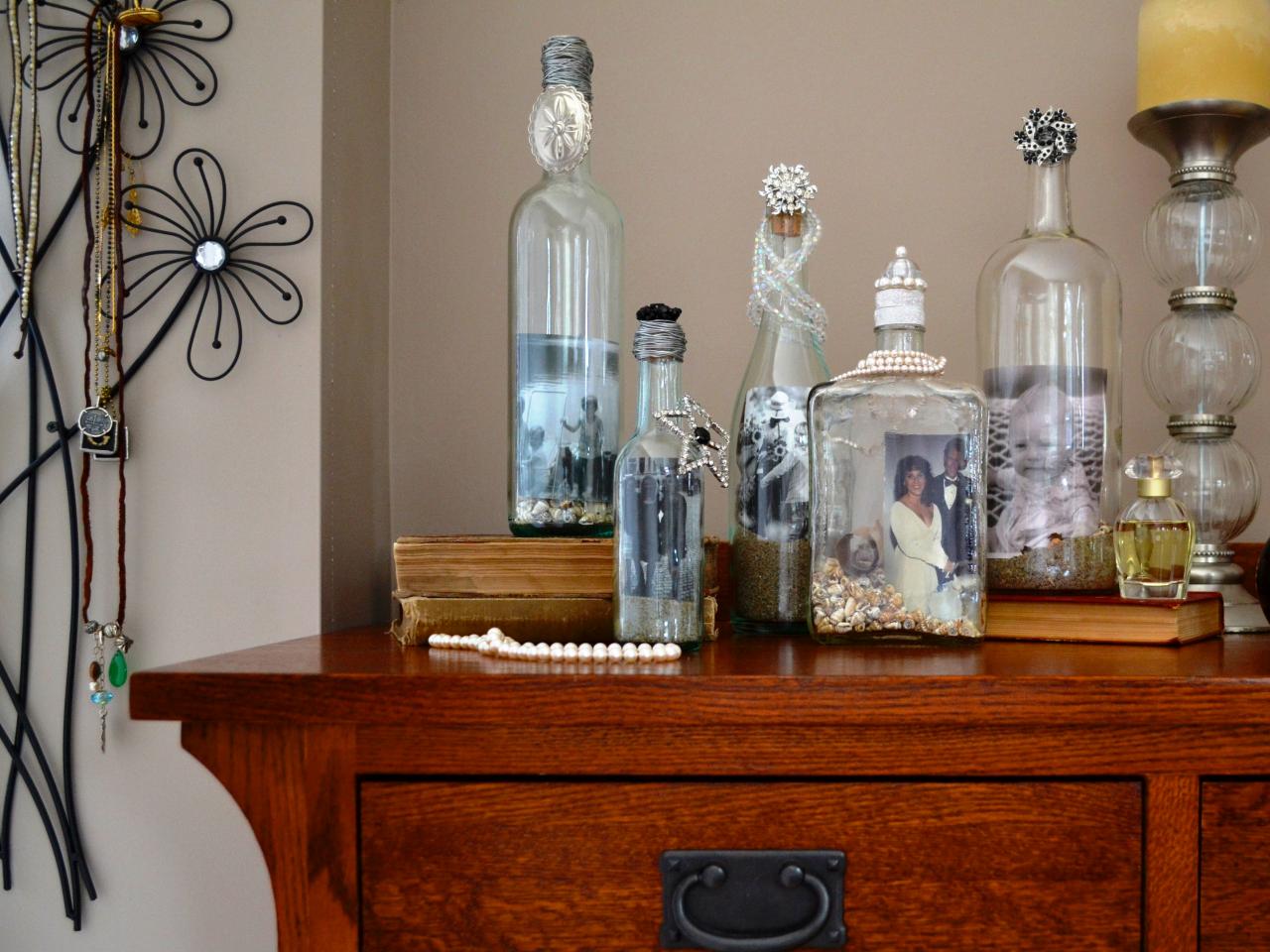 BONUS HACK: You don't need to head out to estate sales to find the missing piece for your next DIY project or for your next piece to upcycle. Vintage finds, brand new metal signs and wall stickers, and even sewing needs are all HERE.
Here at PropertyRoom.com, we do not only have your most valuable jewelry or your next vehicle, we also have something for your home. What are you waiting for? Get bidding now and get a jumpstart to your DIY project right away! BID NOW
Sources: http://www.woohome.com/diy-2/30-cheap-and-easy-home-decor-hacks-are-borderline-genius | http://www.realsimple.com/home-organizing/decorating/diy-home-decor | http://www.popsugar.com/home/Best-DIY-Projects-Home-Decorating-21078898?stream_view=1#photo-7 | http://www.hexjam.com/uk/style/18-completely-genius-diy-interior-design-ideas