December Birthstones: Gemstone Collection
|
Icon made by Iconnice from www.flaticon.com
 With winter on the horizon and thoughts of snow and ice on nearly everyone's mind, it's time to take a little bit to talk about something else that sparkles this time of year – the beautiful December birthstones! All in beautiful shades of blue, and perfect for a little bit of winter glam wherever you go. Turquoise, Blue Zircon, and Tanzanite are all regarded as December birthstones by the American Gem Society, and we'll take the time to cover all three – and we'll link to ongoing online auctions for these lovelies as well.
 Tanzanite
One of the most recently discovered precious stones (only 49 years old), Tanzanite is a stone referred to as 'the most beautiful gemstone discovered in 2000 years' and is believed to assist in metaphysical healing. In addition to this, due to the limited locations that Tanzanite is found, it is one of the rarest gemstones. We've compiled a list of our favorite Tanzanite facts right here:
Found only in the Mererani Hills region of Northern Tanzania, near Mt. Kilimanjaro, and mined in an area less than 3 square kilometers wide.
Tanzanite is heavily valued by color depth – the deeper the color, the higher the value.
Trichroic in nature, Tanzanite gives off three different colors in the right light – blue, purple, and a shade of violet.
Tanzanite is celebrated by specialists as the 'gemstone of the 20th century.'
Turquoise
One of the oldest known gemstones in the world, Turquoise has been found in the tombs of Ancient Pharoahs and in the ceremonial apparel of Native Americans. It has been claimed to offer protection from evil, promote status and wealth in the wearer, and serve as a good luck charm on top of all of that.
Commonly found in weathered igneous rock containing copper minerals.
Turquoise is a relatively soft gemstone, and is easily scratched and broken.
Found in Armenia, Kazakhstan, China, Egypt, Iran, and the American Southwest.
It is the national gem in Iran.
Zircon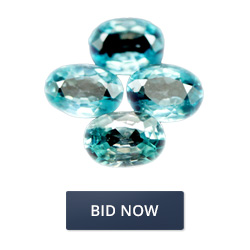 The oldest of not just these gems, but one of the oldest in the world – dating back more than 4 million years. The name is commonly believed to be originated in Arabic, from "zar," meaning gold, and "gun,' meaning color. It is a common jewel that comes in a variety of colors, but the blue tones are the ones considered birthstones for the month of December.
Even though zircon is found all over the world, very few of the stones mined are of gem quality.
The popular "Starlight Blue" variety of zircon was created in the 1920s by heat-treating undesirable golden brown/yellow zircon.
In the Middle Ages, it was believed that zircon aided in resting, brought prosperity, and promoted honor and wisdom.
Zircon was a popular gem among the Ancient Arabs, even appearing in One Thousand and One Nights.
Stay tuned next month for some focus on January's birthstone, the beautiful Garnet. Are you a proud owner of some Zircon, Turquoise, or Tanzanite? Share with us in the comments! Until next time, good luck, and happy bidding!
More December Birthstones