It's December 5th – and we all know what that means. Well, maybe not all of us, but some of us.
It's International Ninja Day, or as we call it at PropertyRoom.com, National BidNinja Day!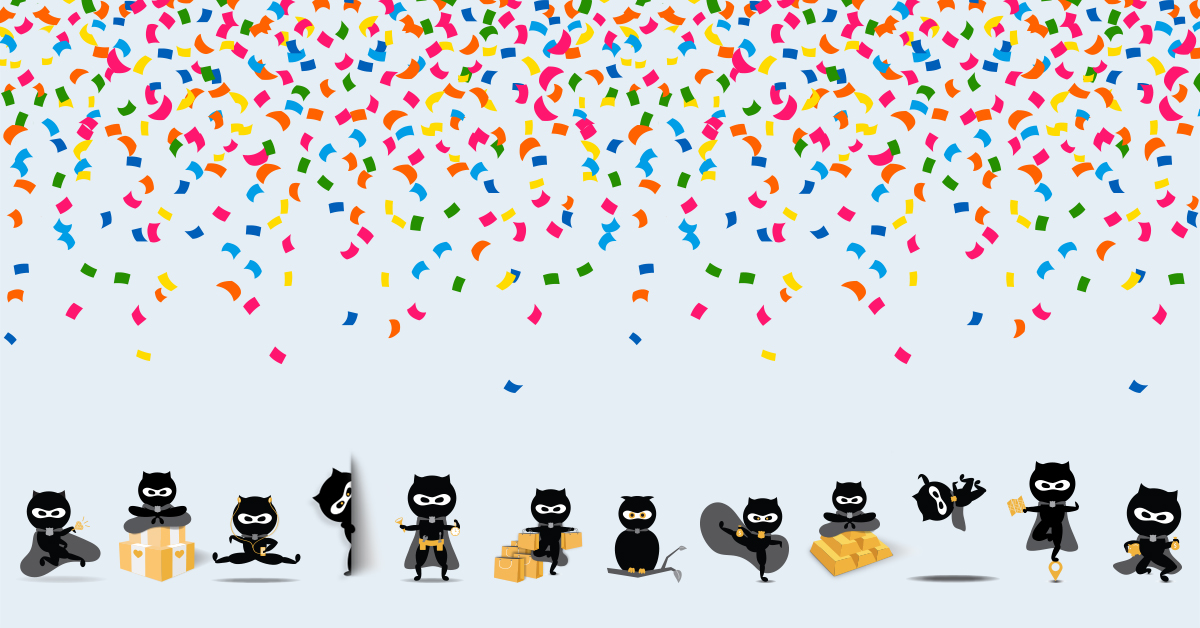 For those of you familiar with our main PropertyRoom.com site, the ninjas are likely a familiar sight to you – there's an option to align your profile with the ninja you identify with the most (more on that in a moment), and they frequently make appearances in our weekly email promotion, as well as in our social media pages. There are 12 BidNinjas in all, and we're going to take some time today to introduce them and talk a bit about their favorite things.
SpyNinja

Described as "86% Detective, 14% Eagle," our SpyNinja is well-known for keeping a low, low profile and using the Watch List to keep tabs on coveted items. When the bidding action starts heating up, SpyNinja jumps in. Here are our personal SpyNinja picks to keep a close eye on – for your own chance to dive in when it's getting hot.
DealNinja

A true champion of the ProxyBid system, the DealNinja cuts straight through the bidding shenanigans, hunts down the best deals, and saves a truckload. A big fan of using the Proxybid system to bid incrementally and snag bargains in their price range without a second thought, DealNinja wins big. Check out our DealNinja recommendations here.
BlingNinja

The master of all things luxury, fashion, and glitter, the BlingNinja lives for the finer, sparkly-er things in life: diamonds, gemstones, gold, silver…if it's eye-catching and you can accessorize with it, the BlingNinja is on top of it. Always on the prowl for those special listings, BlingNinja brings home the pretty things – and without having to empty their wallet in the process. Take a look at some of our top BlingNinja selections.
HighrollerNinja

A close friend of BlingNinja, the Highroller Ninja does not mess around. They come for quality, bid on only quality, and take home quality. If it's an item they want, they're not afraid to shell out serious money for it. For the HighrollerNinja, money is no object when it comes to getting what you want. Rolex? Got it. MacBook? Snagged it. That's how the HighrollerNinja does it. Try these links for the HighrollerNinja recs.
ToolNinja and TechNinja
Two sides of the same coin, the TechNinja and ToolNinja keep their eyes out for bargains in their respective interests, and aren't afraid to get their hands dirty with some repairs if it means snatching up an otherwise tragically out of reach item. Best deals, best brands – new gadgets, old gadgets. They're all about it, all the time. For our TechNinja picks, click here. For the ToolNinja choice auctions, try these.
LotsaNinja

A BidNinja with squirrel tendency and hoarder habits, the LotsaNinja likes lotsa shooping, lotsa bidding, and most importantly of all, lotsa winning. Their auctions of choice are bulk lots, giving them a chance at finding plenty of treasures – and maybe even a few cheap favorites. Bidding is spread over potentially dozens of auctions, and results in nearly as many wins. Feed your inner LotsaNinja with these open auctions.
GiftNinja

The most giving of the BidNinja crew, the GiftNinja doesn't need an excuse to pick up presents left and right for friends and family. Forever frugal, the GiftNinja browses open auctions for gift possibilities on a budget. Each auction win is a present bestowed on their loved ones – all without having to break the bank. Here are our choices for the GiftNinja squad.
NightOwlNinja

Staying up late and searching for the best deals into the wee hours of the morning is the NightOwlNinja MO. Always on high alert for the bargains, the NightOwlNinja swoops in on closing auctions and spirits away the best deals while everyone else slumbers. Auctions set to close after the sun goes down are a NightOwlNinja's natural habitat, and they always have the advantage. Take a look at our personal picks for top NightOwlNinja goods.
GeoNinja

A very special and particular breed of BidNinja, the GeoNinja is all about pickup. Shipping costs, delivery dates – the GeoNinja doesn't have time for that, not when they've picked out the perfect auctions to pick up their hard-won prizes on their own. When they win, they want their items and they want them now. Feeling a bit like a GeoNinja? Check our auctions by pickup location, and say goodbye to shipping fees.
 StealthNinja

 A sneaky master who doesn't waste any time, the StealthNinja swears by the tried-and-true method of waiting in the wings on auctions ending soon, and then turning up the heat by submitting bid after bid after bid. The StealthNinja thrives on last-minute deals and snags more than their fair share. Take a look at our auctions ending in the next 24 hours, and see if you'd like to take a stab at being a StealthNinja.
MegaNinja

The master of all the BidNinjas, the MegaNinjas has all their combined skills down pat. Gurus of all auction-winning methods, they know every trick to getting what they want, when they want it. Little bit of StealthNinja, a pinch of DealNinja, a dash of SpyNinja…and everything in between. Think you've got the chops to be a MegaNinja? Here are some cream of the crop deals to get you started.
So many BidNinjas in our BidNinja family! Which one do you find yourself most closely aligned with? Is there a BidNinja you wish you could be more like? Let us know in the comments! And if your ninja itch hasn't been scratched yet, here's some more ninja-related fun for you.
Happy BidNinja Day!