How to Work Your Watch List
|
Monitoring multiple active online auctions can be time-consuming – checking the auctions from time to time, remembering which auctions you were interested in, and not forgetting to place a bid at a crucial moment. We know that, for most people, it's hard to make that kind of time. That's where the Watch List comes into play.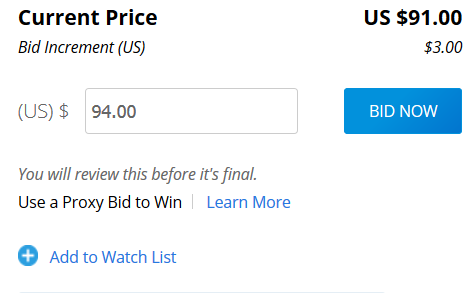 Once you've found an auction you'd like to watch, just click 'Add to Watch List' on the auction page. Make sure you are logged in to your account before you do this. One click and it's done. You can see all your saved auctions on your Watch List page.
If you click the 'Watch List' in the 'My Account' options, you can see all auctions you've added to the Watch List – both open and closed. You can also filter auctions by which ones are ending soonest, which are newly listed, and which have the most or the least bids. There's also an option to sort by which auctions currently have the lowest and highest price.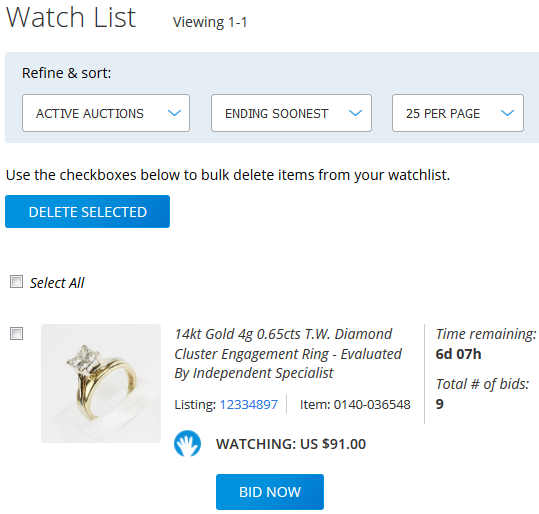 But what if you're not interested in a specific auction anymore? Deleting auctions you've saved is easy, too – just select the auction you'd like to remove, and click 'Delete Selected.' You can also go to the product detail page for a listing and click 'Remove from Watch List.'
Have any additional questions about the Watch List, or have you had an experience where the Watch List has been especially helpful to you? Let us know in the comments – we'd love feedback. Until next time, good luck, and happy bidding!