Property & Evidence Auction Solutions
|
Who are we?
At PropertyRoom.com, we pride ourselves on being the best at what we do. When you work with us, you know you're in good hands. We handle everything from asset pickup & evaluation to auction to post auction accountability. All you have to do is schedule the pickup – we'll handle everything else.
We know you have options though – local auctions to online, self-listing services, but our services provide you a full-service solution for a multitude of assets that other companies do not.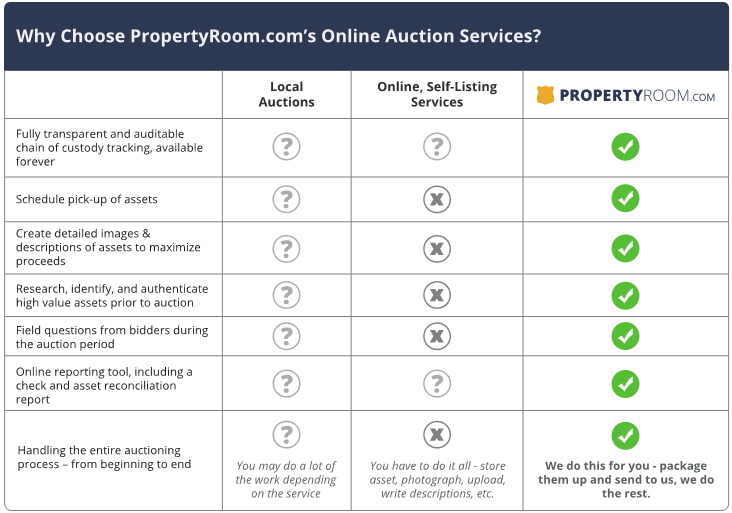 What Sets Us Apart?
We're experts! We know what we're doing and have been in the business for over 20 years.
Because we're dedicated to getting the most for your assets, if we find something special, we're quick to verify and promote them. When something interesting comes to our warehouses, we pick it out, do some researching, and only list if we can guarantee that it's authentic. With Jewelry & Watches, we take the high-end assets and get them evaluated by an independent specialist. We also have an XRF Machine that we use to help get more information about the precious metals that make up different pieces of jewelry. This scans jewelry through to identify the specific metal content makeup of the piece. This allows us to identify counterfeits that use lower quality metal. It also helps us provide more detail about the piece and more accurately describe items in the auction listing.
We also are always on the lookout for counterfeits. With our years of experience, we've seen it all and can now spot it all. We'll identify and pull counterfeits from the auctioning process.
Since our inception in 1999, we've grown to have over 2.1+ million registered bidders. These bidders support our high value, fleet, and firearm auctions and because of them and our 4,100+ clients, we host over 780,000 auctions annually.
Our website was designed and created with bidders in mind. It's easy to understand, navigate, and bid. Because of the simplicity, our customers have a great time looking for their next win.