January Birthstone: Garnet
|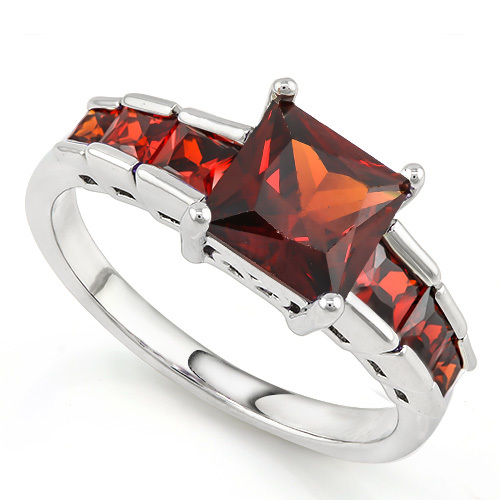 Gorgeous garnet, the January birthstone of choice. It's not difficult for people to fall in love with this gorgeous red stone, but how much do you really know about it? We know it's the only birthstone for the month of January (with some other months boasting multiple stone choices), and that it's an acceptable gift on certain wedding anniversaries, but what else is there? What else would you like to know?
We at PropertyRoom.com have taken the time to make a list just for you. Fun fact, historical facts, and interesting little tidbits about garnets, all in one place. And on top of that, we have a list of some of our most enticing garnet auctions on the main site (featuring a few designer pieces). So read on, learn a little, and maybe snag a few for yourself. Any questions or fun facts you feel worth noting? Drop us a note in the comments section, and we'll add it in just for you!
Garnet Facts
This stone can be found in a rainbow of colors! Most people are familiar with the deep red, but nearly any shade is possible. There are green varieties, black varieties, and it can even be completely colorless!
No mining necessary! In North and South America, garnet is found in areas where certain varieties of other rocks have weathered down – usually in small streams, creeks, or puddles.
It is believed that the powers of this stone include strength, healing, and relief against skin inflammation – and it was also believed to aid in heart health and assist with circulation.
Garnet is also a stone affiliated with the zodiac signs of Capricorn (Dec. 22 – Jan. 19) and Aquarius (Jan. 20 – Feb. 18).
This is a bad luck stone for anyone engaging in theft and deceit – so habitual trust twister and sticky finger owners, watch out!
The name "garnet" comes from the Latin "Granatum," known now as Pomegranate – the color similarity was uncanny.
Hope you all enjoyed the chance to learn a little bit more about January's top birthstone! We've included some garnet auction links right here for you as well, so make a bid (or two, or three)! Take a chance on indulging in some of this breathtaking red stone – maybe you'll get some good luck all your own. Good luck, and happy bidding!
Gold Filled Pendant Necklace with Genuine Garnet
Garnet & White Topaz, Solid .925 Sterling Silver & 18k White Gold Designer Samuelle And Co. Necklace