Greatest Works of Art, Captured in a Medallion
|

In the 1970s, the famous medalist John Pinches created a set of Sterling Silver Medallions, depicting one hundred of the greatest works of art of all time.
It was issued by The Franklin Mint and each medallion is a beautifully engraved rendition of the original. Each artwork was sensitively cropped to suit the round format of the medallion. These are large medallions with 50mm (over 2″) diameter, containing over 2 ounces of Hallmarked Sterling Silver. The Obverse side of each shows the artwork, and the Reverse side shows details in raised lettering within a classical wreath, of the title, date and artist.
They were first sold as sets using a subscription model, where each month the subscriber would receive one or two coins to add to their set. At the end of the subscription period, the collection would be complete. Later on, they were also sold as a complete set, without the need to subscribe, encased in an attractive wooden cabinet designed to hold the collection.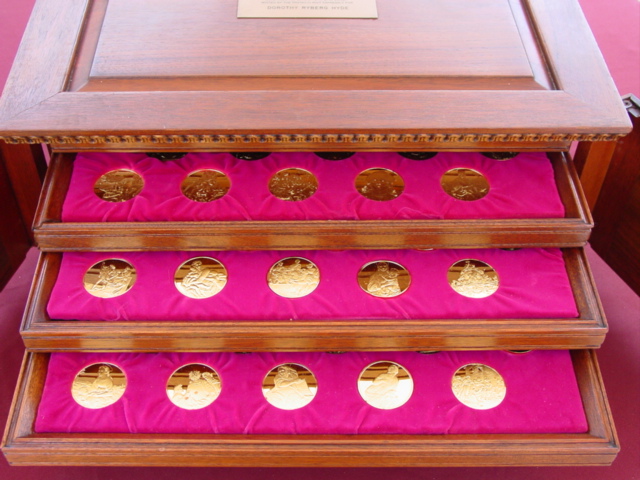 The Franklin Mint also released a 24K gold-plated version of the medals and were as, or if not much more, beautiful than the silver versions. Here are just some that are readily available on auction:
If you're an art collector, a silver collector or just have an appreciation of the greatest artistic pieces ever created, these medals are perfect for you. Not only are you buying coins that are aesthetically beautiful, but one that has intrinsic and historical value as well.
More of the collection HERE. Happy bidding!