New Certified Gemologist- AGS/GIA on Staff!
|
Great News! We now have a Certified Gemologist- AGS/GIA on staff to review our jewelry, gem, and watch auctions!
The Certified Gemologist- AGS/GIA looks at our Jewelry and Watches during processing. During the evaluation, they provide more detail to listings in order to ensure that our bidders get a better understanding of the value behind our beautiful pieces.
Because of our resident Certified Gemologist- AGS/GIA, we are able to enhance listings to show how many stones are in the piece, what those different stones are, and shape, where applicable. We can even describe different carats in different stones within the same piece.
Check out how the Certified Gemologist helps process jewelry in the diagram below.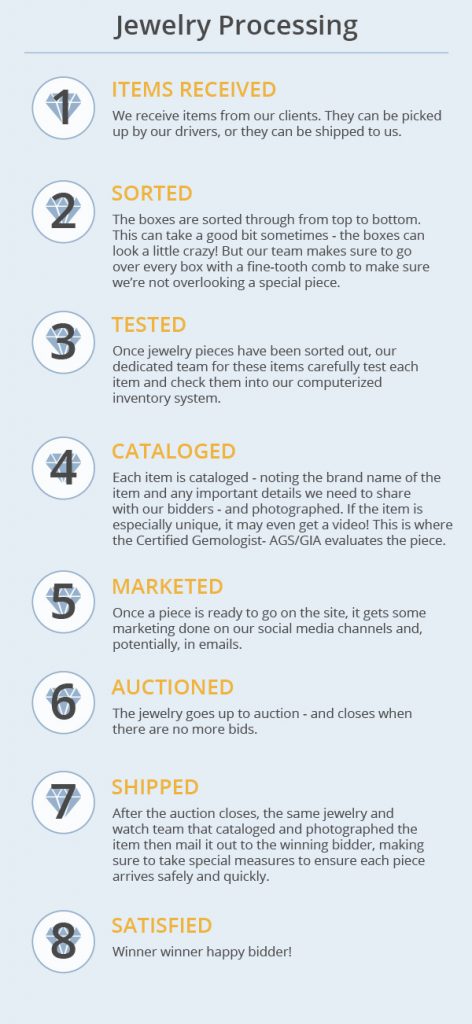 With the incredible amount of jewelry auctions on site, the Gemologist can't assess them all! If you're looking for these auctions specifically, search for "Evaluated by our Certified Gemologist".
What are you excited to put on your Watch List? Rings? Gemstones? PropertyRoom.com can help you find exactly what you're looking for.
Having a Certified Gemologist- AGS/GIA on site is a great way for you, as bidders, to better understand the value of our Jewelry & Watches auctions. This also ensures that you can be confident that you're getting a great deal on our jewelry auctions! Good Luck & Happy Bidding!